IN THIS ISSUE
Principal's Message: Celebration of Learning
Plus SCEF and Community News
IMPORTANT DATES
Mon 5/29: No School (Memorial Day)
Fri 6/2: Library Books Due!
Wed 6/7: White Oaks Folk Dance, 8:25-9:00 a.m.
Wed 6/7: Arroyo/CMS PTA Social, 7:30 p.m.
Wed 6/7: Final Walk to School Wednesday
Thu 6/15: 3rd Grade Moving On Celebration, 11:30 a.m.
Dear White Oaks Families,
We had an amazing turnout for our Celebration of Learning this past Wednesday. I absolutely loved seeing the smiles of pride on the students' faces as they shared projects with their families. This night always holds a special place in my heart. The culmination of everyone's hard work is finally presented and it is incredibly rewarding to take a step back and say, "Wow! Look how much we have learned this year!"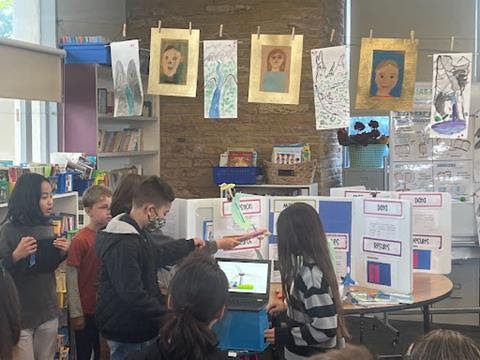 I would like to thank Brooke Sibley and Doug Okamoto for organizing the Art in Action Show that took place in the MU during the Celebration of Learning. What fabulous pieces of art our children have created! Our PTA has made it possible for these art lessons to take place in the classrooms and I am so happy we got to celebrate this enriching program.
Sincerely,
Leah Scholer
Principal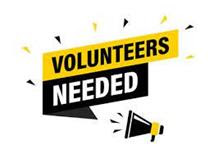 Join the Holiday Store Committee for Next Year!
Help needed for Holiday Store 2023! We would love your help this summer to start gathering supplies and making the gifts for our White Oaks Holiday Store. We are doing it a little differently by starting earlier and spreading out the gift making so it is not such a rush in the fall. We plan to have a few crafting parties to socialize and make or assemble some of the gifts together. Please reach out to Sara Ting if you'd like to join the committee. We love new ideas and fresh eyes to keep it interesting!
3rd Grade Families - Arroyo/CMS PTA June Social
Please join us Wednesday, June 7 at 7:30 p.m. to hear all about what we have planned for Arroyo next school year. We'd love to have your input and can answer any of your questions. More details on the event are in the Evite. Please RSVP and bring a friend. If you can't make the social but want more information on how you can get involved next school year, check out the 2023-24 sign-up!
Thank You to Our Art in Action Volunteers!
The PTA would like to acknowledge all of the amazing parent volunteers that helped make Art in Action a success this year. The art exhibit in the MU, during the celebration of learning, was such a treat to see all of the creativity our students have. And a special shout out to Brooke Sibley and Doug Okamoto for coordinating the program this year!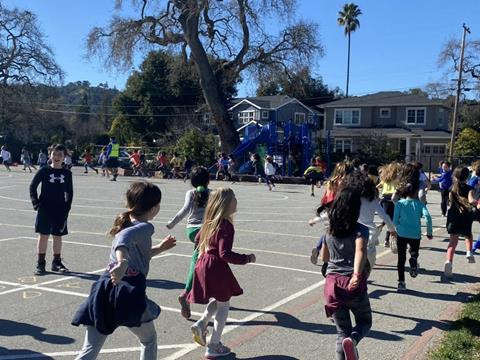 Two Weeks Left of Running Club
There are only two weeks left of Running Club! Come join the fun and cheer on our runners during the second and third grade lunch. No adult running necessary! Sign up here.
It's the Last Walk to School Wednesday of the Year!
As the school year comes to the close, we invite all students to walk, roll, ride, or scoot to school for our last Walk to School Wednesday. Charms will be given to all students who participate.
Library Books are Due by June 2
It has been a fantastic year in the White Oaks library with over 8,000 books checked out this school year! All library books will be due on June 2. Please contact Katie Gallagher with any questions. Thank you!
Celebrations all around town!
What a great turnout for the SCEF Celebrates Music Hometown Days Concert and the excitement at all of our schools welcoming their families for their Celebrations of Learning. This is at the very heart of SCEF's mission, and we are so proud. We are also thrilled to be funding YOUR PTA this year, and many of the end-of-year events managed by your PTA this year are funded with SCEF dollars.
Time is Running Out
We are running out of time to meet our goal and need your help-- help us meet our grant obligations to fund key positions and school programs next year. Please check the draft donor roll to review your donations this year (fiscal year ends June 30) and if there are any errors or omissions, please let Scott Cleaveland know. You can still make a gift to support the 2023-24 school year.

Potential first time donors, take note!
Long time supporters, Jennifer and Greg Holmes, will match dollar for dollar up to $50,000 for any first time donations to SCEF. There is still time to leverage YOUR donation. Take advantage of this extraordinary opportunity to make your first-time donation today!
Hoping to Pack a Few More Weeks of Excitement into Your Kids' Break?
Book a fun-filled week or two at Camp Galileo full of traditional summer fun, imagination-sparking STEAM projects and tons of new friends. Stack up the savings with a multi-week discount of $25 per week if you enroll in 2 weeks or more.

This month only, we're celebrating some exclusive promotions.
From May 25-31, save $29 on each week of Camp Galileo during our Memorial Day Sale using code MEMORIALDAY23.
Book an unforgettable summer! You can learn more about our scholarship program here.
PTA CORNER
Join the White Oaks PTA. Your membership matters and helps support programs and events for our students and teachers.
A percentage of your purchases will automatically be donated to the White Oaks PTA — at no cost to you!