IN THIS ISSUE
Principal's Message: Mental Health Awareness Month
Year End Special Events
Plus SCEF, District, and Community News
IMPORTANT DATES
Mon 5/15: San Carlos Night at the Giants, 6:45 p.m.
Wed 5/17: Heritage Day, 8:30 a.m.-12:30 p.m.
Thu 5/18: Mental Health Q&A, 7 p.m., Arroyo Commons
Sat 5/20: Hometown Days Parade, 9:00 a.m.
Wed 5/24: Celebration of Learning, 6:00-6:30 p.m. (TK-1st) and 6:30-7:00 p.m. (2nd-3rd)
Fri 5/26: Minimum Day, dismissal at 12:25 p.m.
Mon 5/29: No School (Memorial Day)
Wed 6/7: White Oaks Folk Dance, 8:25-9:00 a.m.

Dear White Oaks Families,
May is Mental Health Awareness Month. While our school district prioritizes mental health every day, we will be doing special activities at the school sites to remind students the importance of taking care of their minds.
A frequent question that our mental health team gets is - what's "typical" for my student, developmentally? We know each student is different, and we know that the pandemic interrupted/stalled age-appropriate behaviors in some cases. However, Yardsticks is a fabulous, loose guide to follow to utilize when wondering, is this situation normal, given my child's age? Is this a mental health or behavioral issue, or is this typical for folks in this age bracket? Please use the following guide to get to know "typical" characteristics of students, depending on their general age range. This can hopefully allow for some solace, and knowing that you're not alone in some issues you're working on with your student(s).
If you do have concerns about your student, please remember that we have extensive resources for you to utilize. If you are overwhelmed by where to start, reach out to us! It's just as important that YOU are receiving the help and support you need, too. We partner with Care Solace to help get you connected to a therapist that is covered by your insurance.
Lastly, please join our Mental Health Lead, Kiersten Daniel Baca and Health and Wellness Director, Ilana Yakubovich for a Mental Health Q & A on Thursday, May 18, 7-8 p.m. at Arroyo Commons. RSVP and add topics to discuss here.
More mental health resources:
Warmly,
Leah Scholer
Principal
The Art-in-Action Show is Coming Soon!
Once again the MU will be transformed into an Art Exhibition Hall to show off the students' Art in Action work. Volunteers are needed to help create this beautiful display. We need people to help prepare the space, sort and hang art and take down everything after the show. Please join us!
Sign Up to Be a Buddy Family for New Families!
As we get closer to summer, we want to encourage families to sign up to be Kinder Family Buddies. This special White Oaks tradition pairs current families with incoming Kindergarten and TK families to help them feel like a part of the White Oaks community. It is a wonderful resource for the new families in case they have questions about school over the summer or at the beginning of the year. First-time families often have normal jitters, and having a particular person or family to talk to helps a lot. Please fill out this form by May 31 to sign up to be a Kinder Family Buddy. Reach out to our Kinder Buddy volunteers with any questions via email.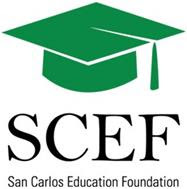 Every eligible school in our school district was recognized as a California Distinguished School. Of the many things that contribute to our fantastic schools, we want to acknowledge the generous parent and community support through SCEF. With this additional local fundraising, our schools can provide our students with a balanced and enriching education.
Mental Health & Wellness, and Physical Education
SCEF supports school programs that develop strong minds and bodies. Your contribution helps to ensure that our children have counselors who offer guidance and support. SCEF grants help fund physical education programs which increase student physical health and result in better academic performance.

Technology Staff and Equipment
Your investment in technology ensures that our children have access to the tools they need to succeed. SCEF grants fund technology associates, computer devices and applications to aid learning.

Make it Happen in May
Our campaign to reach our annual fundraising and "Make it Happen In May'' will help us deliver a reliable grant estimate for 2023-24 so that SCEF contributions can be considered in the school board's final budget deliberations in June. Please help us achieve our goal of $3.7million to support San Carlos public schools and PTA programs by making a donation today!
Mental Health Q+A with SCSD Wellness Leads - May 18
Have questions about supporting your student? Unsure what's developmentally appropriate vs. when it's time to get help? Come chat with Kiersten and Ilana, SCSD Mental Health and Wellness Leads!
Thursday, May 18, 7-8 p.m., Arroyo Commons
RSVP and submit topics here
Making Room for a New Public Gathering Place in Downtown San Carlos
On April 24, the City Council directed staff and the consultant team to move forward with a bold vision to transform the 700 block of Laurel Street into a plaza, thereby paving the way for a more pedestrian friendly downtown. Learn more.
Hoping to Pack a Few More Weeks of Excitement into Your Kids' Break?
Book a fun-filled week or two at Camp Galileo full of traditional summer fun, imagination-sparking STEAM projects and tons of new friends. Stack up the savings with a multi-week discount of $25 per week if you enroll in 2 weeks or more.

This month only, we're celebrating some exclusive promotions.
Through May 24, save $35 off per week with code SUMMERPLANS35.
From May 25-31, save $29 on each week of Camp Galileo during our Memorial Day Sale using code MEMORIALDAY23.
Book an unforgettable summer! You can learn more about our scholarship program here.
Parent Education Opportunities
Can a plant-based diet improve your family's health? Join Kaiser Permanente physicians Dr. Kathryn Gopez, Pediatrics, and Dr. Elizabeth Nadiv, Pediatrics, for Plant-Based Nutrition: Building Healthy Habits for Family Eating (May 18).
NEW! What is "immigration grief" and how does it impact generations of newcomers? Michelle Remond, immigrant advocate, presents Understanding Immigration Grief: Connecting to Past, Present, and Future Generations (May 23).
Visit the Parent Venture Series of Upcoming Events page for more information.
PTA CORNER
Join the White Oaks PTA. Your membership matters and helps support programs and events for our students and teachers.
A percentage of your purchases will automatically be donated to the White Oaks PTA — at no cost to you!